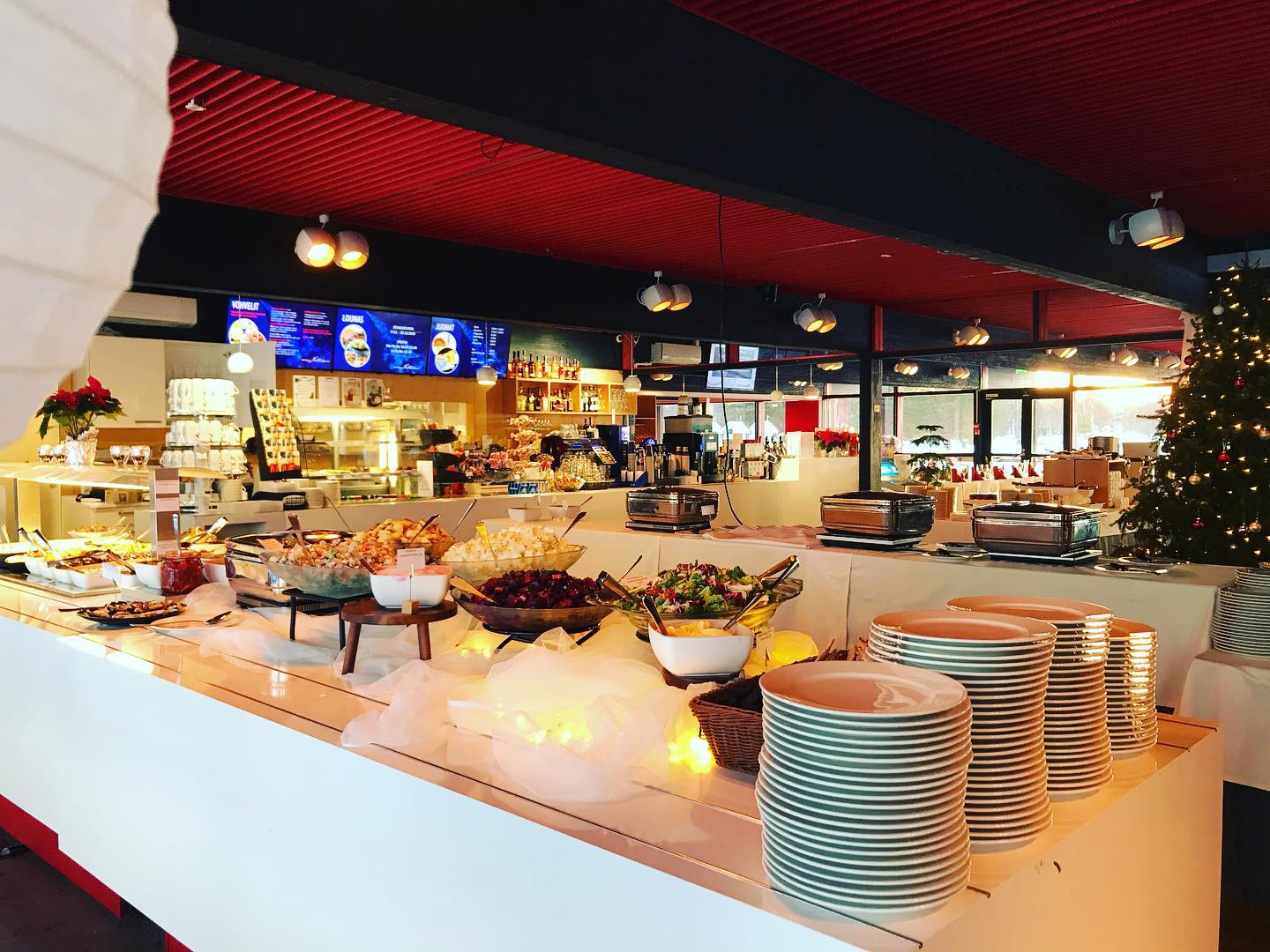 FESTIVE CHRISTMAS PARTIES
Restaurant Nallikari with an amazing sea side location, multi-functional facilities, sauna world, great food and good accommodation possibilities guarantee a successful Christmas party or festive Christmas lunch event.
You can reserve space suitable to your party style and number of attendees, a private cabinet or even the whole restaurant.

We have five cabinets with several combinations.
FACILITIES, FOOD AND DECORATION
You and Your colleagues can have a memorable Christmas party with an exquisite sea view and amazing dinner. Also sauna & Jacuzzi option.

We help you to choose the facilities best to Your party, depending of your wishes and the amount of guests attending. Table settings are planned together with our staff and we make the settings beautiful. Festive setting includes modern and well cared tableware, candles and Christmas serviettes.
For extra price, You can order white table clothes and seat covers, flowers, menu cards etc. Decoration by restaurant staff is priced by hour.
Our cleaning service takes care of the cleaning before and after the party.
Food and beverages
At Restaurant Nallikari we are at our best with great parties with good food.
We have designed festive three course menus and delicious buffets with perfect wine matches. Our wines and beverages are chosen by tastings by our skilled entrepreneurs. Bar is also open to serve Your guests.
pöytiin tarjoiltuna että buffet-pöytään katettuna. Hyvän ruuan kruunaa sopiva viini. Ravintolamme juomasuositusten takana on ammattitaitoinen henkilökunta, joka on maistelemalla ja vertailemalla löytänyt parhaat ruuan ja viinin yhdistelmät. Pikkujoulujen alkuun valittavana on ravintolan omia jouluisia juomasekoituksia. Juhlijoiden käytössä on myös ravintolan baarin samppanja- ja kuohuviinitarjoiluineen.
Music and AV
As a back round music we play smooth Christmas songs with pleasant volume. You can also play Your own play list from laptop, tablet or phone to speakers. On dance floor You can show Your Christmas moves and it is possible to rent a DJ or a band to play.
In the biggest parties the role of the host is highly appreciated and our staff co-operates with the person chosen, fluently through the party. In all of our cabinets there is also high-tech meeting equipment and free WiFi in Your use. Our staff will help You with all the settings.
Sauna world and Jacuzzi
Sauna world is open year-a-round with two saunas, out-door Jacuzzi and private terrace and two cabinets.
Saunas and cabinets for 20 and 40 persons. Cabinets can also be combined together.
We have an alcohol license in all of our facilities and you can order food and beverages from the restaurant.
Sijainti ja parkkipaikat
Ravintola Nallikari is located 3,5 km from Oulu City center and is easily accessible by private car, taxi or bus. Nearby restaurat there are 130 free parking spaces.

By staying the night at Nallikari area, You can enjoy Your party a with out any rush.
Nearby Sokos Hotel Eden and Nallikari Holiday Village have nice rooms and beautiful villas in the beach area. At Eden You can also relax at the famous day spa or have beauty treatments with friends and colleagues.
Welcome to plan a Christmas party to remember. We´ll do the work so You can relax!
At Your service
Our professional staff is ready to help You and Your wed-to-be to design the day of Your lives. Please, just send us an email with wanted date, max. number of guests and Your wishes to our sales myynti@ravintolanallikari.fi.
Please, contact for offer!