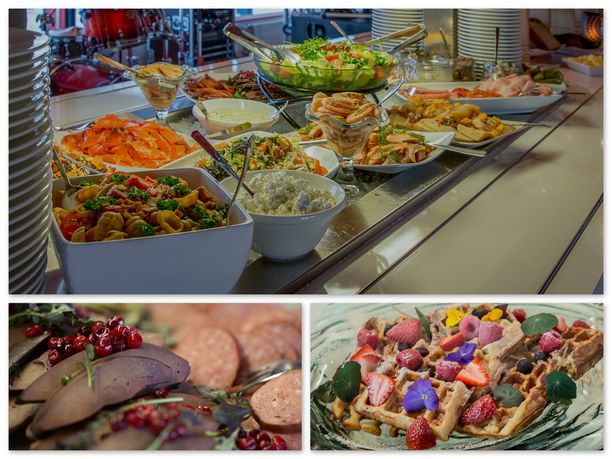 ---
Nallikari Brunssi


24 €
-50% alle 13 v | 8 € alle 4 v


Lauantaisin
12.00 - 16.00


Juhlista viikonloppua maistuvalla ja runsaalla Brunssilla,
upeassa merellisessä ympäristössä.
Ravintola Nallikarin Brunssi on tyylikäs yhdistelmä aamiaista ja lounasta.
Meillä Brunssista nauttii koko perhe.

Brunssilla tarjolla, sesongin ja viikon mukaan vaihdellen:

Vihersalaattia
Green salad
Lisänä ituja, paahdettua sipulia, kuivattua marjaa ja siemeniä
To top with sprouts, roasted onion, dried berries and seeds
Herkullisia salaatteja
Tasty salads
Valikoima silliä ja silakkaa
Selection of herring and Baltic herring
Graavia-/ lämminsavulohta
Slightly salted / smoked salmon
Katkarapuja
Shripms
Kokolihaleikkeleitä
Charcuteries
***
Lämmin keitto
Warm soup
Talon munakokkeli
Scarmbled eggs
Perunaa
Potatoes
Vaihtelevasti mm. makkaraa / kanaa / ribsejä / lihapullia / kalaa
Varying weekly: saugsages / chicken / porkribs / meatballs / fish
***
Valikoima tuoreita leipiä, karjalanpiirakoita ja croissanteja
Selection of fresh bread, carelian pies and croissants
Voita, tuorejuustoa ja marmeladia
Butter, cream cheese and marmelade
***
Kotimaisia juustoja ja hilloketta
Cheese plate and compote
Rahkaa / jugurttia / smoothie
Quark / youghurt / smoothie
Appelsiini- , omena-, ja mustikkatuoremehua
Soodaa ja jäävettä
Juice, ice water
***
Nallikari pannnukakkua, jäätelöä ja hilloa
Nallikari pancakes, ice cream and jam
Kermavaahtoa ja kastiketta
Whipped cream and dessert sauce
Tuoreita hedelmiä
Fresh fruits
Kahvia tai teetä
Coffee or tea

Erikoiskahvit brunssin yhteydessä - 50%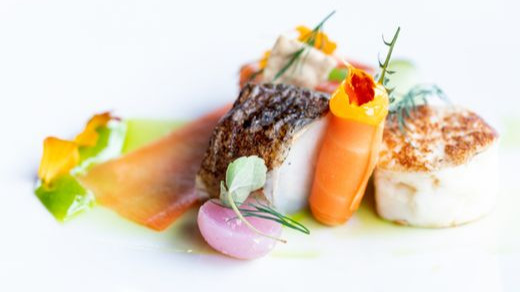 Annoksissa käytetään monipuolisesti paikallisia sekä alueellisia raaka-aineita, jotka Chef Antti Lindholm on valinnut.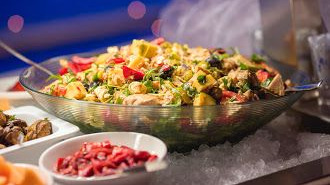 Buffetissa ruokaisa keittolounas,
Tasty soup lunch, famous Islander buffet and all inclusive business lunch with two main courses.